More Than Just an Anti-Bullying Program
Middle school is such an important time of life. However, it can also be a very difficult and challenging time for some students.  Matt Wilhelm provides middle school assembly program empowers students to stand up for one another, stand up for themselves, and be everyday heroes.
His program is perfectly aligned with PBIS, Social-Emotional Learning, Olweus, and Second Step programs.
Matt Wilhelm's school assembly program covers ALL THREE of the following topics:
"Every middle school needs to have Matt Wilhelm to visit their school!"

Mark Kohl - Principal, Bradley Central Middle School
Watch a Preview of Matt's School Assembly
The Show
Matt Wilhelm's middle school assembly program is designed to entertain, educate, and empower. He creatively mixes BMX bike tricks with his own inspiring stories of beating the odds en route to becoming a BMX National Champion.
In addition to his BMX skills, Matt is also a gifted storyteller. He is FUNNY. He is INTERESTING. He is CAPTIVATING. What makes these stories powerful is that they are from his own personal experiences.
Middle school students can apply his messages about respect, responsibility, and resilience to their own everyday lives.
This is not only the most exciting middle school assembly you will ever host, but also the one of the best messages your students will ever hear.
His story is truly unforgettable.
Students Will Learn
Why kindness and respect are important
Bullying: What it is and what it is not
The myth of "Just Joking"
The difference between bystanders and up-standers
The power of words / Think before you speak
Everyone is different and being different makes you great
The importance of positive self-talk
Anything is possible with a "Never Give Up" attitude
The myth of the "overnight success"
Hard work pays off
And Much More!!!
"Things in our school got way better all because of you. I can't believe you have made a huge difference for not only me, but for everyone. I found strength and comfort from your words. You gave me hope when I lost my way and helped me see things in a positive way. You know words can't even describe how thankful I am right now."

Rafia - Middle School Student (Received via Instagram)
Buying In
Do your students buy in? Do they want to take action on the speaker's message? Many times middle school students are skeptical of "motivational speakers" and tune them out before they even start talking.
To get through to middle school students you must first earn their respect.
Matt has instant respect with middle school audiences. Before he even steps in front of the crowd, Matt will have won them over. He is a two-time National Champion and three-time X Games Medalist. Your students will be amazed that someone who was called "A Million Dollar Act" is performing at their school.
From Matt's opening line students will be laughing out loud. Laugher is the key to breaking down the barriers of skeptical students. Once Matt has won them over, he shares his story. Your students will relate to Matt as he speaks to them as someone who is on their side.
After the show your students will beg for selfies, autographs, and high fives. More importantly, they leave the assembly empowered and ready to make a difference.
You came to my school BJHS a week ago. You were amazing and everyone loved hearing what you had to say. A lot of kids at my school won't listen to events like that, but they listened to you."

Lydia - Middle School Student (Received via Instagram)
Learn More About Matt Wilhelm's Anti-Bullying Message
Google Reviews
Interested in Finding Out More?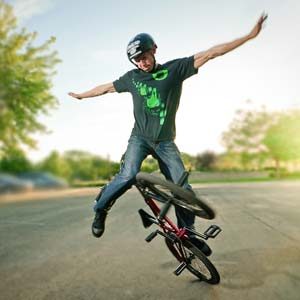 Join the 300+ Schools that Matt visits every year!
For pricing, availability, and more info simply fill out the form below.