More Than Just an Anti-Bullying Program
Matt Wilhelm's school assembly program is one of the most popular school assemblies in the country.  His program is perfectly aligned with PBIS, Social-Emotional Learning, Olweus, and Second Step programs.
Every child deserves to feel safe at school.  Matt Wilhelm's positive approach to bully prevention make it "Cool to be Kind."
Matt Wilhelm's school assembly program covers ALL THREE of the following topics:
"Nearly every teacher has approached me saying what a wonderful assembly that was! Thank you so much, and I can't express enough how important it is to talk to young children about this topic and you definitely have the gift for it! Thanks again!!!"

Noelle K. - PTA President, Graham Elementary School
Watch a Preview of Matt's School Assembly
The Show
Matt Wilhelm's elementary school assembly program is designed to entertain, educate, and empower. He creatively mixes BMX bike tricks with his own inspiring stories of beating the odds en route to becoming a BMX National Champion.
In addition to his BMX skills, Matt is also a gifted storyteller. He is FUNNY. He is INTERESTING. He is CAPTIVATING. What makes these stories powerful is that they are from his own personal experiences.
Kids can apply his messages about respect, responsibility, and resilience to their own everyday lives.
His stories and message are truly unforgettable.
Students Will Learn
Why kindness and respect are important
Bullying: What it is and what it is not
The myth of "Just Joking"
The difference between bystanders and up-standers
The power of words / Think before you speak
Everyone is different and being different makes you great
The importance of positive self-talk
Anything is possible with a "Never Give Up" attitude
The myth of the "overnight success"
Hard work pays off
And Much More!!!
"My son is 10 (4th grade) and has Duchenne Muscular Dystrophy. He has never even ridden a 2 wheel bike before and will not be able to in the future due to his muscle disease and the physical deterioration it causes.

Your message today about not giving up when things are tough or seem unachievable was really an impressionable moment for him. I thank you for that.

Just know that you made a little kid hopeful today that he can be as determined as you to get past some of the obstacles he faces!"

Tammy C. - Parent (Received via Facebook)
Are They Listening?
Do your students stay engaged for the entire duration of an assembly? If the kids aren't paying attention in the first place then what's the point? Forty-five minutes can seem like an eternity for elementary students if you have the wrong speaker or entertainer.
Kids learn more effectively when they are having fun. In order to communicate a unique message you have to communicate that message in a unique way.
Matt Wilhelm's elementary school assembly program is unlike any you've ever seen.
Matt will keep your students' attention for the entire duration. His award-winning tricks are literally "award-winning." He has won X-Games Medals, National Titles, and was a Semi-Finalist on "America's Got Talent." Your students will be in awe that someone from TV is putting on a live show just for them.
But Matt isn't performing for your kids just to put on a show. The real reason is to share his story. His message is delivered in a way that elementary school students can understand, digest, and apply to their own lives.
Your students, teachers, and principal will all love the show because it entertains, educates, and empowers students. It works on ALL levels.
Learn More About Matt Wilhelm's Anti-Bullying Message
Google Reviews
Interested in Finding Out More?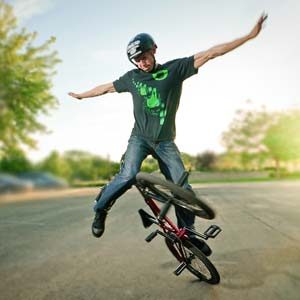 Join the 300+ Schools that Matt visits every year!
For pricing, availability, and more info simply fill out the form below.