Matt Wilhelm - BMX Rider / Motivational Speaker
Matt Wilhelm is a BMX Flatland rider and motivational speaker. He is known for his fast spinning and aggressive riding style. He is a three-time X Games Medalist, World Championship Silver Medalist, two-time United States National Champion, and Guinness World Record Holder.
Among other television appearances Matt advanced to the semi-finals on America's Got Talent. He also won America's Got Talent YouTube Competition, and won FOX TV's 30 Seconds to Fame.
Wilhelm is also a motivational speaker and performs at over 300 schools per year. He was featured in the award-winning documentary Stop Bullying: Speak UP with President Obama.
Here are some of Matt's accolades:
2022 USA National Champion
3-Time X Games Medalist
World Championship Bronze and Silver Medalist
Semi-Finalist on America's Got Talent
Winner of America's Got Talent YouTube Competition
Winner of FOX TV's 30 Seconds to Fame
Red Bull Fight with Flight Champion
Guinness World Record Holder
2021 Team USA Member for the BMX World Championships
Watch Matt's Career Highlights Video
The ride to the top wasn't easy for Matt. Growing up in the Chicago suburb of Oak Lawn, there were not any local skateparks nearby. As a result Matt began riding BMX Flatland, a style of riding that doesn't require a ramp.
Winter provided another seemingly insurmountable challenge, as there was nowhere to ride for almost half the year. Determined to make his BMX dream come true, Matt resorted to riding in tight spaces such as garages, basements, and anywhere else without snow. Riding in these small areas proved to be a blessing in disguise as he was forced to spin in tight circles - a style that made him famous.
Armed with a deep bag of tricks and his unique riding style of spinning, the pro-level competitions were right around the corner.
"Despite six broken bones and growing up in a state where most people didn't know what BMX biking was, Matt Wilhelm beat the odds and became a two-time national champion."

Frankfort Station News
Competition
After eight years of practice Matt qualified for the largest BMX competition in the world, The X Games. However, disappointment struck as he finished in last place. Determined not to give up on his dream, Wilhelm worked harder and crafted some new signature tricks, among them the Blender Bike Flip, and 360 Body Varial. Eight months later, Matt came out of hiding (and training) for the X Games Trials. He won first place, edging out the reigning X Games Champion in a first place tie breaker. His hard work had paid off, and his first professional victory was a sign of things to come.
"By age 25, Matt has already accomplished more than most people do in a lifetime."

Ride BMX Magazine
After winning his first professional competition Wilhelm never looked back. He went on to win the Bronze Medal later that year in the X Games, pulling a perfect run in the finals that included his signature Blender Bike Flip. The following year he won both the CFB Year-End-Title and the ESPN Year-End Title.
In addition to winning televised competitions, Wilhelm won first place at many core competitions including the Toronto Metro Jam, UGP Roots Jam (twice), Flat Jam, Elevation, Northcoast Flatland Battle, Tuner Evolution (twice), AmFlat, and Red Bull Fight with Flight.
Internationally, Wilhelm graced the podium twice at the King of Ground competition in Japan, The Asian X Games in South Korea, The Latin X Games in Brazil, and took home a silver medal at the World Championships in Portugal. He was also the first American rider invited to compete in the Red Bull Circle of Balance.
With a strong international following Matt was gaining fans all over the world. But little did he know that he was just about to break through into mainstream America.
Television
Wanting to share his talent, Matt decided to enter a video in the America's Got Talent YouTube competition. Although the video was filmed on a simple iPhone, it was unlike any other BMX video ever produced.
The video featured Matt doing some of his hardest tricks, but with a twist... Glow-in-the-dark. The view count on the video kept getting higher and higher. The video was featured on many websites and went viral, leading to a phone call that some would consider life-changing.
On the phone were all the judges from America's Got Talent. They called on speaker phone to say, "Matt, you won the YouTube competition. You're going to be on America's Got Talent."
He went from watching the show at home on his couch to performing live, on stage, in front of 15-million people the very next week. Some would say he was the definition of an "overnight success." However, few people realized that he was already an accomplished BMX rider.
"America never gets it wrong, and there is a reason why America gave you more votes than anyone else. That was phenomenal."

Howie Mandel - America's Got Talent
During Matt's first performance on the show the judges raved about not only his talent, but also about his creativity. The toughest judge at the time, Piers Morgan, was convinced that Matt could go all the way and take home the million dollar prize.
"You've come from nowhere, and I think you are going to have America on your side. And that cellphone could have taken you very close to a million dollars."
Piers Morgan - America's Got Talent
Although his ride on the show eventually came to an end during the semi-finals, he still received great reviews from the judges and a standing ovation from the audience for his final performance.
Watch Matt's AGT Audition Video
Prior to his Got Talent appearance Wilhelm won FOX TV's 30 Seconds to Fame. The show was a fast-paced talent competition awarding a weekly $25,000 grand-prize to the winner. Matt performed his tricks on a tiny stage, which was no challenge at all considering he grew up riding in areas that were even smaller.
He was also featured on ABC Television's Master of Champions. The show pitted him against another BMX rider to compete for the title of "Best BMX Bike Rider." Matt won the challenge and was awarded yet another medal for his collection. Also of note the show profiled Matt's motivational speaking and school assembly programs, helping him further expand his mission to motivate today's youth.
Wilhelm was also featured in the award-winning documentary "Stop Bullying: Speak Up!" on Cartoon Network.
The original documentary was produced as part of Cartoon Network's social outreach program. It captured authentic, everyday stories of America's bullied kids and the youth who have helped them.
In addition to performing some amazing stunts in the film, Matt also told his story of being bullied as a teen. He talked about how he used his bike to overcome those fears of bullies, and ultimately became successful.
The film featured both everyday kids and celebrities, the biggest being President Obama.
School Assembly Programs
Thinking that his story might inspire students, Matt started started performing and speaking at schools during the competition off season of 2005.
His school assembly program covers perseverance, bullying, kindness, and resilience.
Matt initially thought that he would speak at ten schools per year. He had no idea that the topic of "bullying" was about to become such a big national issue. He is now one of the most requested school assembly speakers in the country.
Matt visits over 300 different schools per year and has shared his story with literally millions of students.
"Hi Matt, I'm Ben from Ellsworth Middle School. I am really proud to say that after you came everyone stopped bullying me and I just want to say thank you."

Ben B. - Middle School Student (Received via Facebook)
Click Here to Learn More About Matt Wilhelm's Anti-Bullying Program
Personal Life
A saxophone player since the fifth grade, Matt received a music scholarship from Millikin University in Decatur, IL. He graduated magna cum laude from Millikin with a degree in marketing and a minor in music.
During the keynote speech at the graduation ceremony the President of the university asked Matt to stand up to be recognized as a student graduating with honors and pursuing an interesting career.
"And finally today we have a graduate with the most unusual story of accomplishment, unlikely to be equaled by his fellow graduates. Matt Wilhelm recently won the National X Games Trials in flatland bike riding last month. He will graduate magna cum laude today. Matt will you stand and be recognized. "

Dr. Thomas F. Flynn - President, Millikin University
While attending Millikin he met Kathy Tyrrell, who would later become his wife. They are happily married and have two children: Violet and Zack.
In 2016, while training for the World Championships in England, Wilhelm broke his finger. Staying true to his message of "Never Give Up" he competed with the broken finger anyway.
He pulled off a miraculous "perfect" no-touch run, which put him on the podium with a bronze medal to add to his collection.
After returning from England Matt came home to set a Guinness World Record.
Recently Matt's event, BMX Flatland, was included in the UCI BMX World Cup. In 2021 Matt qualified for Team USA. He competed at the World Championships in France and finished #1 on Team USA for BMX Flatland.
Interested in Finding Out More?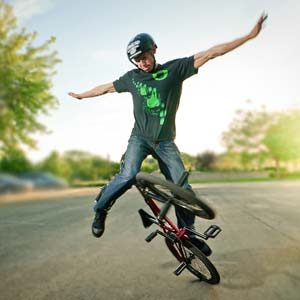 Join the 300+ Schools that Matt visits every year!
For pricing, availability, and more info simply fill out the form below.