[lead]From The Hawkeye Newspaper[/lead]
Article: Joey Aguirre
Photos: John Lovretta
MORNING SUN — Even BMX riders get bullied.
Matt Wilhelm is a three-time X-Games medalist, two-time National Champion and a semi-finalist on "America's Got Talent." As a kid, he was called, "Ears" and was constantly picked on for being skinny and dorky.
He almost lost his bike once because a group of bullies pushed him down a dirt ramp.
"Everybody stood there and watched as the bullies continued to push, kick, threaten, verbally attack me in every way possible," Willhelm told students at Morning Sun Elementary Friday morning. "Finally somebody did speak up and said, 'Teach that punk a lesson,' and they pushed me down the hill. I didn't even stand a chance. Did it hurt? Of course it did, but what hurt worse was seeing everyone else laughing, pointing their fingers. That hurt worse than breaking six bones."
Wilhelm said one student could have spoken up, but nobody did.
Eventually, Wilhelm was asked by another BMX rider if he wanted to ride with him, and he accepted.
"I'm asking you today to be that one person," Wilhelm said. "If you see someone being picked on or pushed around, even called a name like 'Ears,' don't laugh or stand around with your cool friends. Have the courage to speak up. You can be somebody's hero and be somebody's Batman. Your words are powerful."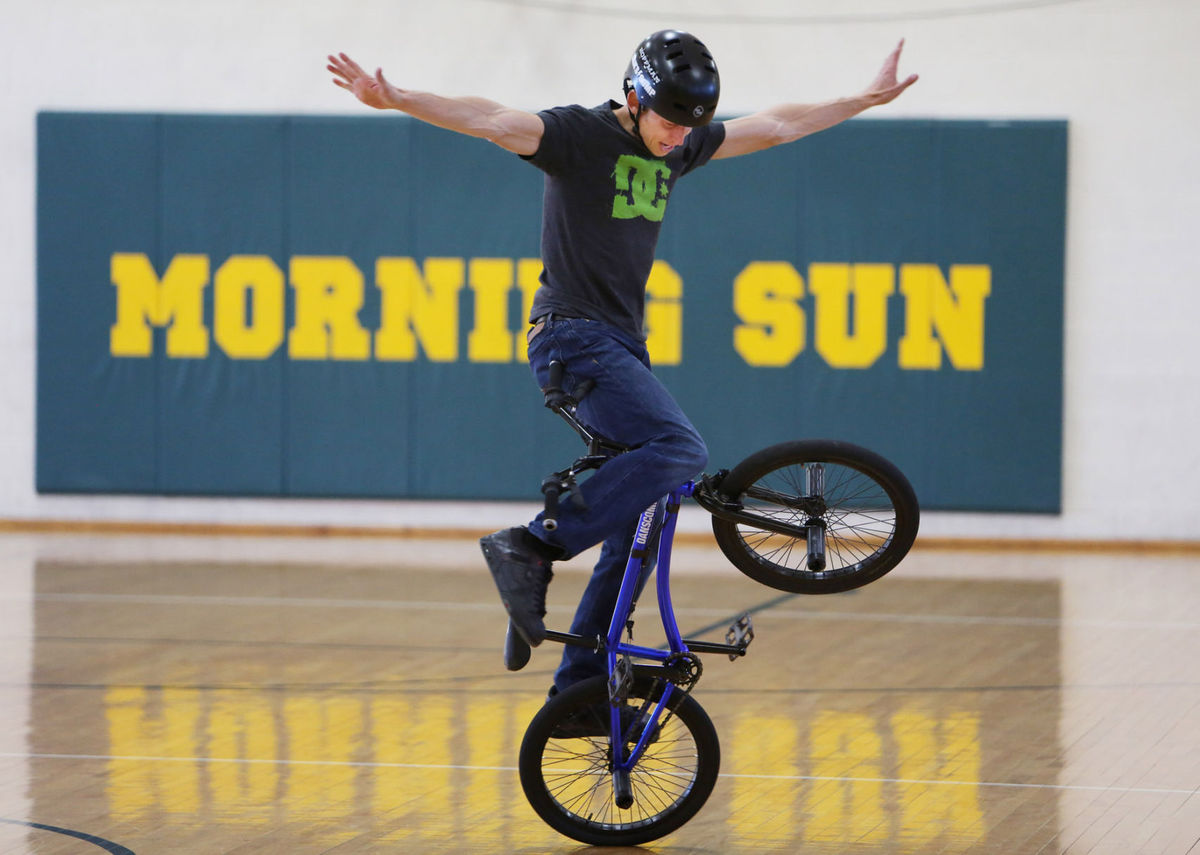 Wilhelm now is a professional BMX rider and stunt cyclist.
His bike tricks pushed him ahead of 100,000 hopefuls to appear on the show "America's Got Talent."
His path to the show began by entering a cellphone video of himself performing in a YouTube competition.
Willhelm shared his story and performed some of his world-famous bike tricks with elementary students in Mediapolis, Morning Sun and Wapello.
The bike tricks received thunderous applause from the Morning Sun students, but so did the message about bullying and character.
"I was the definition of an overnight success," Wilhelm said. "Except here's the thing, there's no such thing as an overnight success. When you see someone on 'America's Got Talent,' you are seeing the finished product. What you don't see is all the practice and mistakes. Everyone sitting in here has some kind of talent, but that doesn't mean you can sit around playing video games all day, then make it to the Olympics."
It's simple for Wilhelm: Hard work pays off.
And that can be on and off the bike.
"When I was in fifth grade, I started practicing a musical instrument called the saxophone," Wilhelm said. "By the time I was old enough to go to college, I received a music scholarship to play the saxophone. That means they gave me $25,000 just to go to school. Is that awesome or what?"
Nancy Martin, Morning Sun's music and Spanish teacher, thought Wilhelm was pretty awesome.
"It was great how he shared how he was bullied as a child and how he didn't really have help that first time," Martin said. "But later that kid he respected said he could ride with him. That made the difference."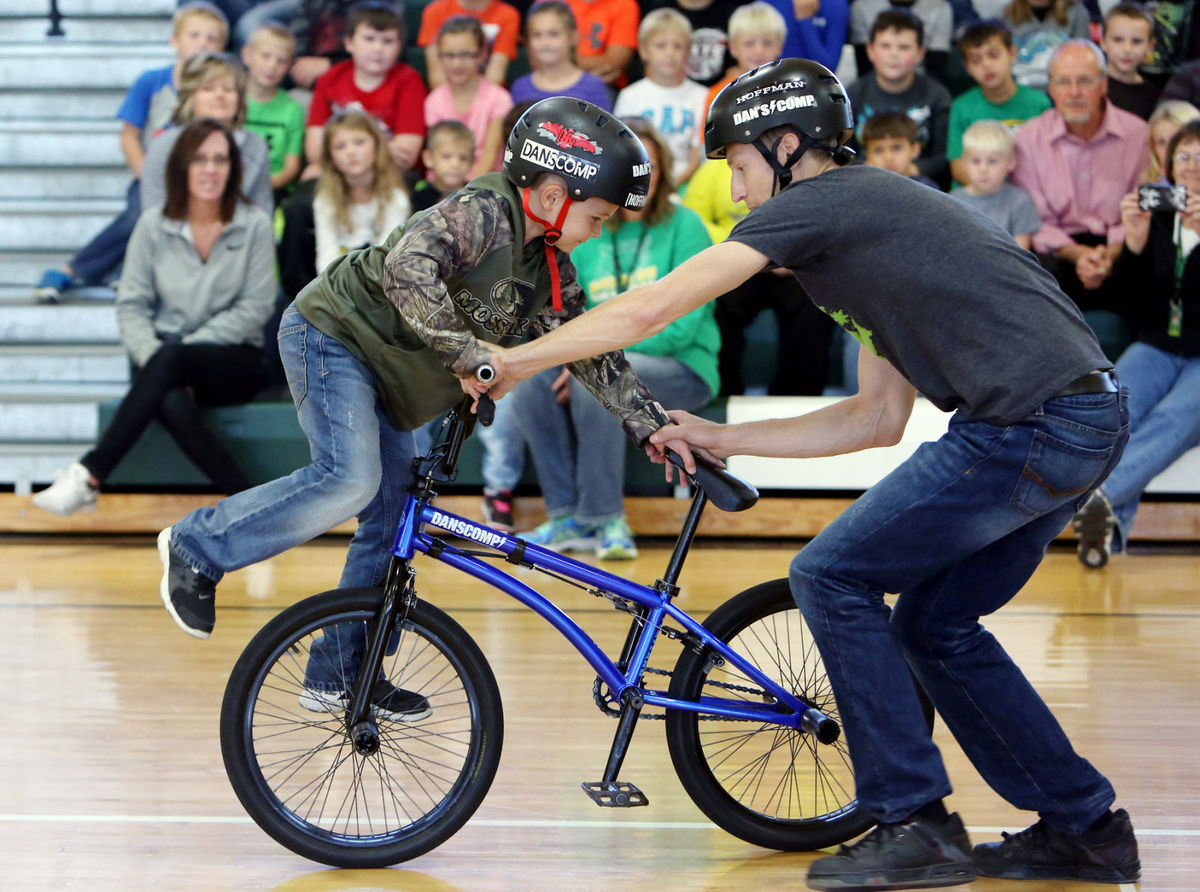 Morning Sun Elementary has four anti-bullying rules that align with Wilhelm's message.
"We review those most mornings, and we really try to do the very things he said," Martin said. "It tied in great. And the tricks were fun. That's what kept the kid's attention. … He did a wonderful job."
Patricia Hamann, who volunteers at the elementary school, thought Wilhelm was great.
She's never seen tricks like that on a bike before.
"It was very nice, it was a great message," Hamann said. "I think he did a great job."