[lead]Do Your Kids Want to Be Kind?[/lead]
We live in a world that doesn't always value kindness. Kids are constantly exposed to celebrities and "role models" who are often praised for bad behavior.
We tell our kids to be kind, to stand up for one another, but why should they? Why should they risk their popularity to stand up for someone who isn't as cool?
Let's face it, being kind isn't always cool. You have to make kindness cool. You have to make your students "buy in" to being kind.
Your students will be inspired by Matt's story. One small act of kindness changed him from bullied kid to National Champion.
Students Will Learn
The impact of one small act of kindness
Bullying: What it is and what it is not
The myth of "Just Joking"
Bystanders have the most power
The power of words / Think before you speak
Our differences make us great
Importance of positive self-talk and self-image
Learn More About Matt's Bullying Prevention / Kindness Message

Get Your Students to Be Kind
Matt Wilhelm's anti-bullying program empowers kids to stand up for others, stand up for themselves, and be everyday heroes.
No child deserves to feel unsafe. All kids should feel welcome and accepted for who they are.
Your students will hear the message loud and clear. They will walk away inspired and ready to make a difference.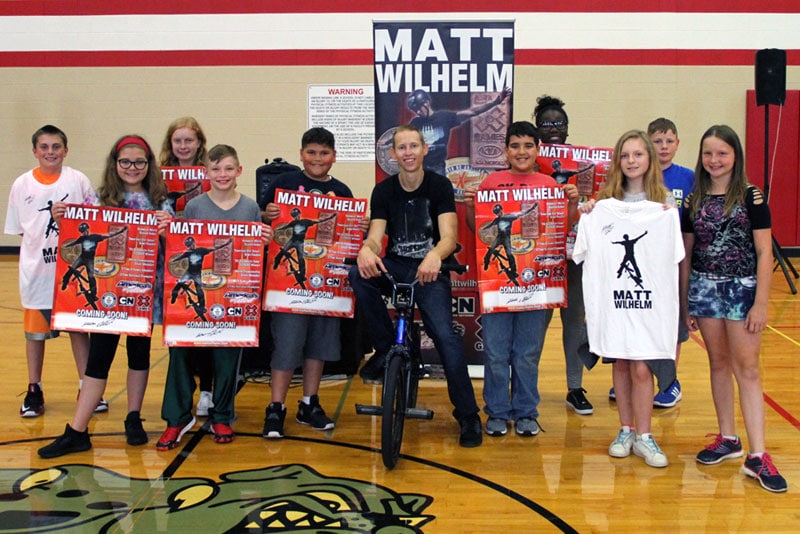 Your students will love Matt's show. Dates are limited so don't delay.
[button color="custom" link="http://mattwilhelm.com/contact/" size="x-large" target="_self" block="false" bg="#ff9800″ bg_hover="#000000″ text="#ffffff" text_hover="ffffff" include_bg="true" include_border="false"]Request More Info[/button]